After three nights at the spectacular Waldorf Astoria Amsterdam, it was time to fly to Athens, the last stop on our European adventure in five countries. While I had visited Greece earlier this summer, in this case we were just returning briefly for a wedding.
How I redeemed miles for Aegean Airlines Business Class
We needed to fly from Amsterdam to Athens, and luckily Aegean Airlines had many rewards available on the following flight:
07/22 A3625 Amsterdam to Athens departure 12:05 pm arrival 4:20 pm
Aegean Airlines is part of Star Alliance, so we were able to redeem Air Canada Aeroplan points (transferred from Amex Membership Rewards) for this booking. The ticket costs 25,000 Aeroplan points plus $ 73 in taxes and fees per person. While not my best rewards redemption, it was convenient and an economy class ticket would have cost over $ 300 per person.
Check-in and boarding on Aegean Airlines
We arrived at Amsterdam Schiphol Airport around 10:30 am, just over 90 minutes before departure. The airport was quite busy, but we quickly found the Aegean Airlines check-in counter. There was no line in business class and Star Alliance Gold online so we were helped in an instant.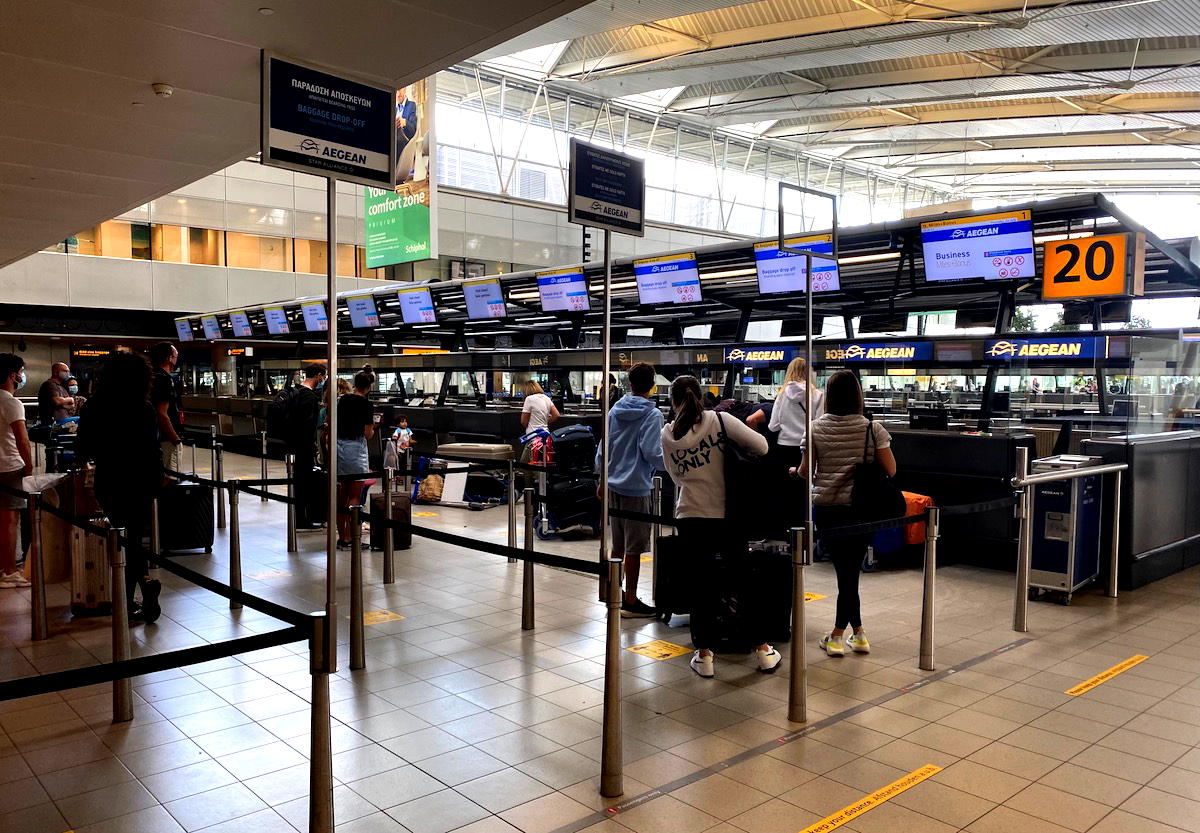 We were issued boarding passes for boarding at 11:25 am. Our flight was departing from gate B23 and we were also invited to use the Aspire lounge, although we didn't end up using it but instead decided to go straight to the gate and work on our laptops .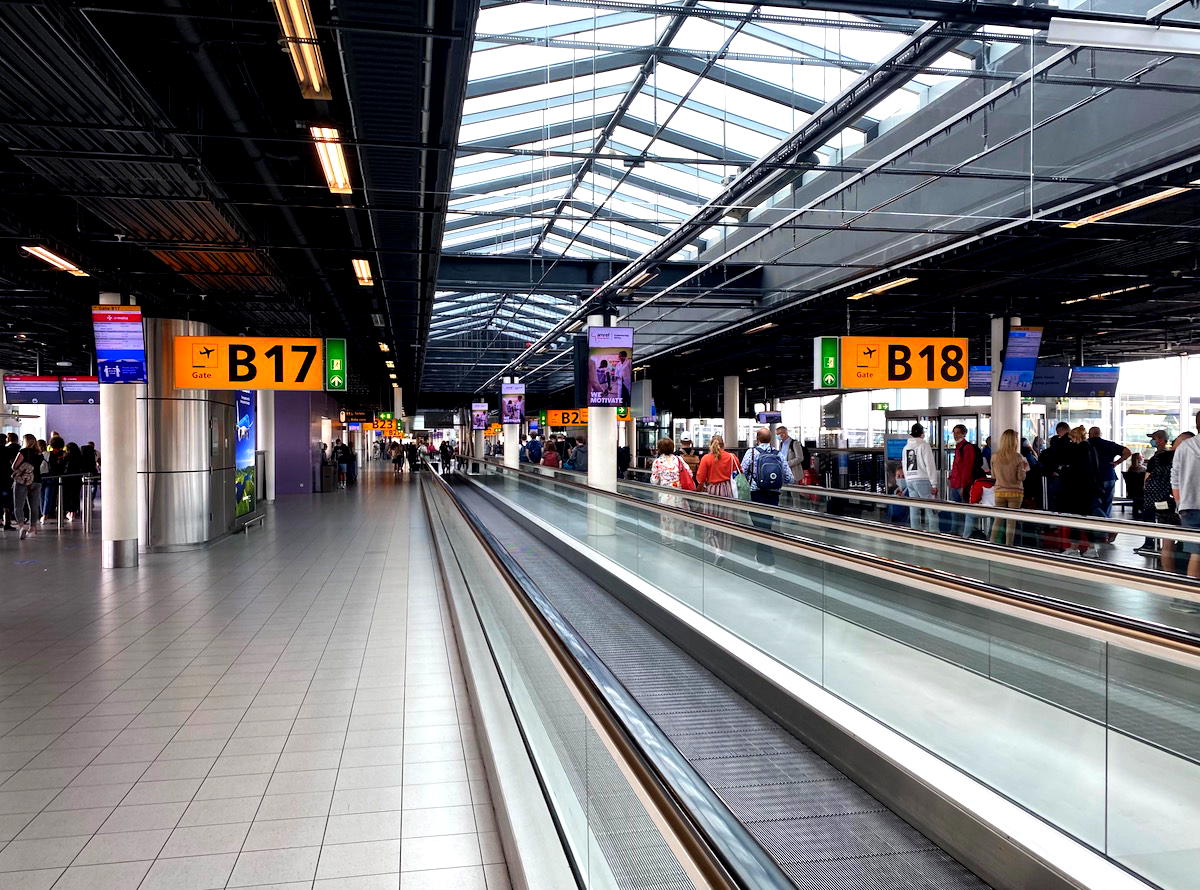 Our Aegean Airlines A321 was already parked at the boarding gate and the boarding area was extremely crowded.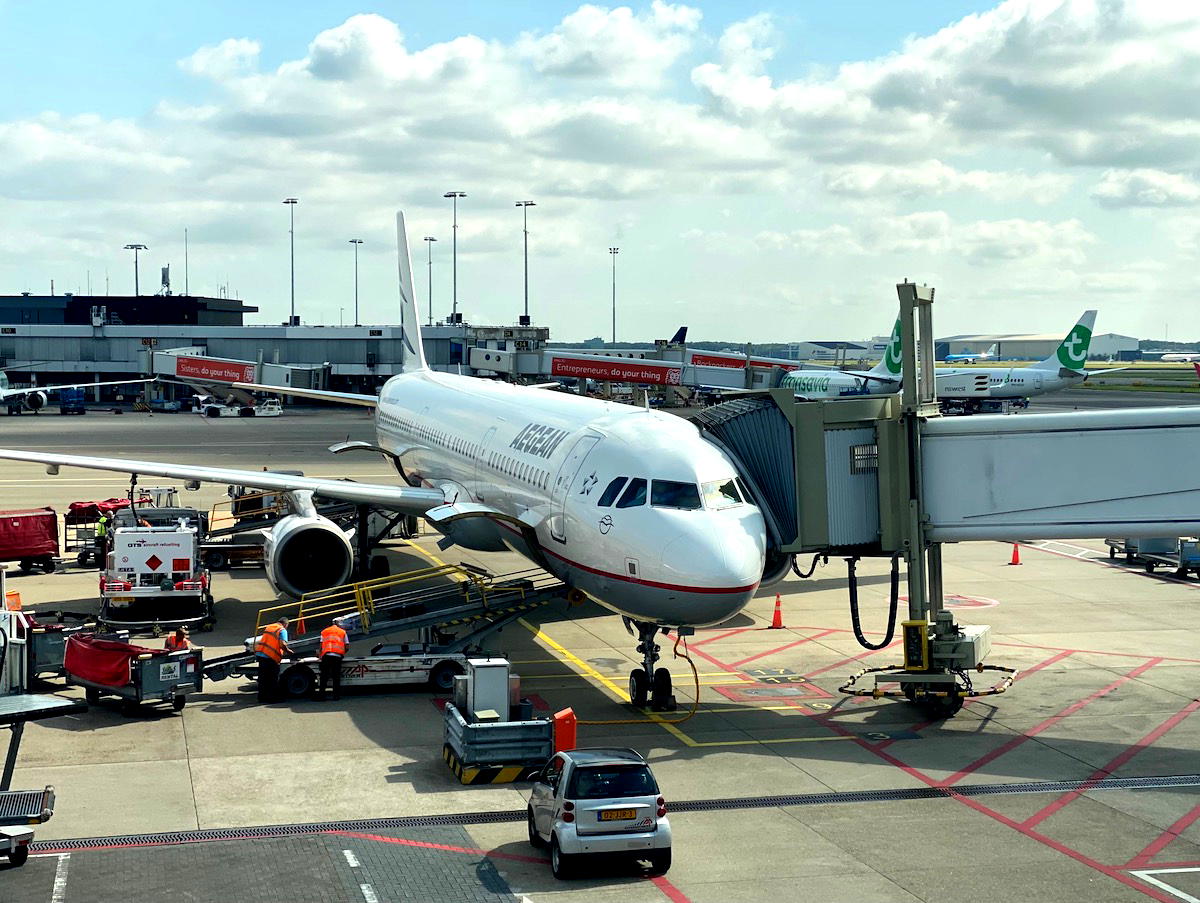 Boarding started at 11:10 am – 15 minutes ahead of schedule – and was a mess. Groups 1 and 4 have been asked to board first. The biggest problem was that there was no way to get to the gate. There were barriers along the gate so there was maybe an area a few feet wide where you could walk towards the gate agent, but basically everyone for the flight was lined up, even if they had not yet been called to board.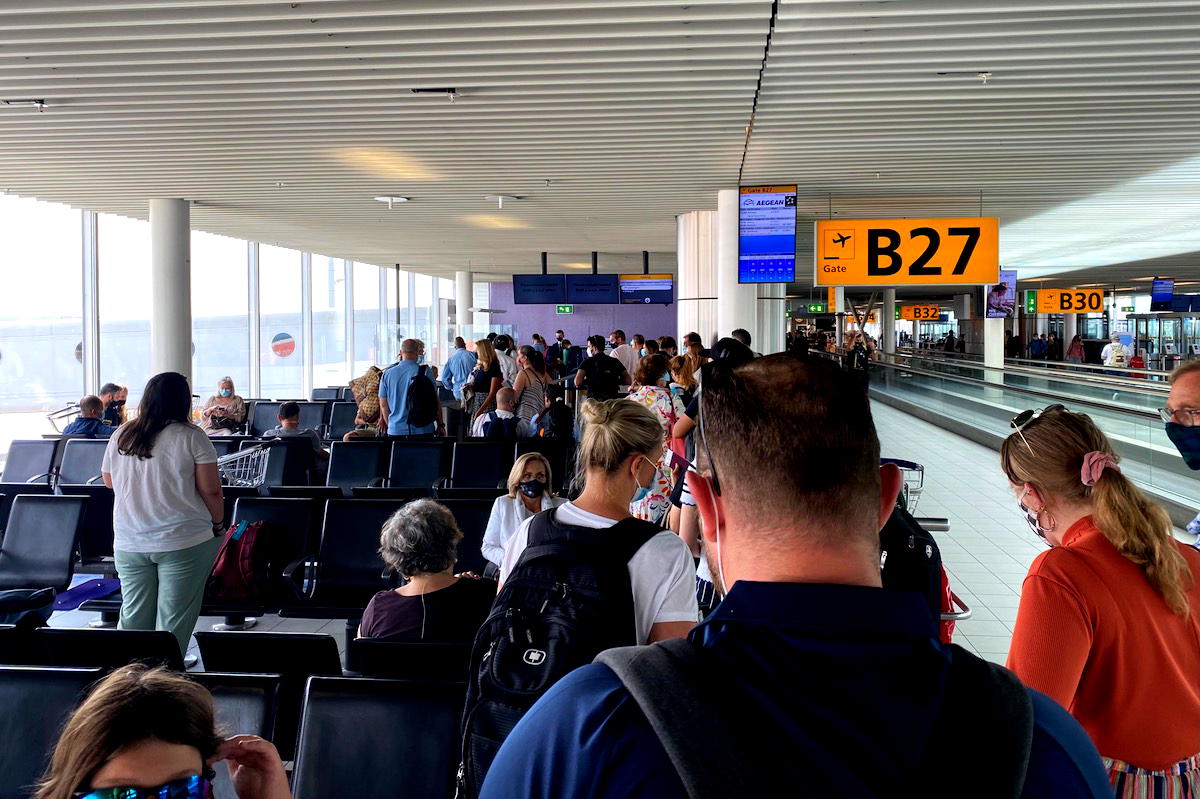 I tend to think boarding in the US is a mess, but sometimes Europe takes it to a whole new level.
Aegean Airlines Airbus A321 business class cabin and seats
As is the norm on intra-European flights, business class simply consisted of economy seats with a blocked middle. On this particular flight, there were three rows of business class, then a red curtain separated it from the economy cabin.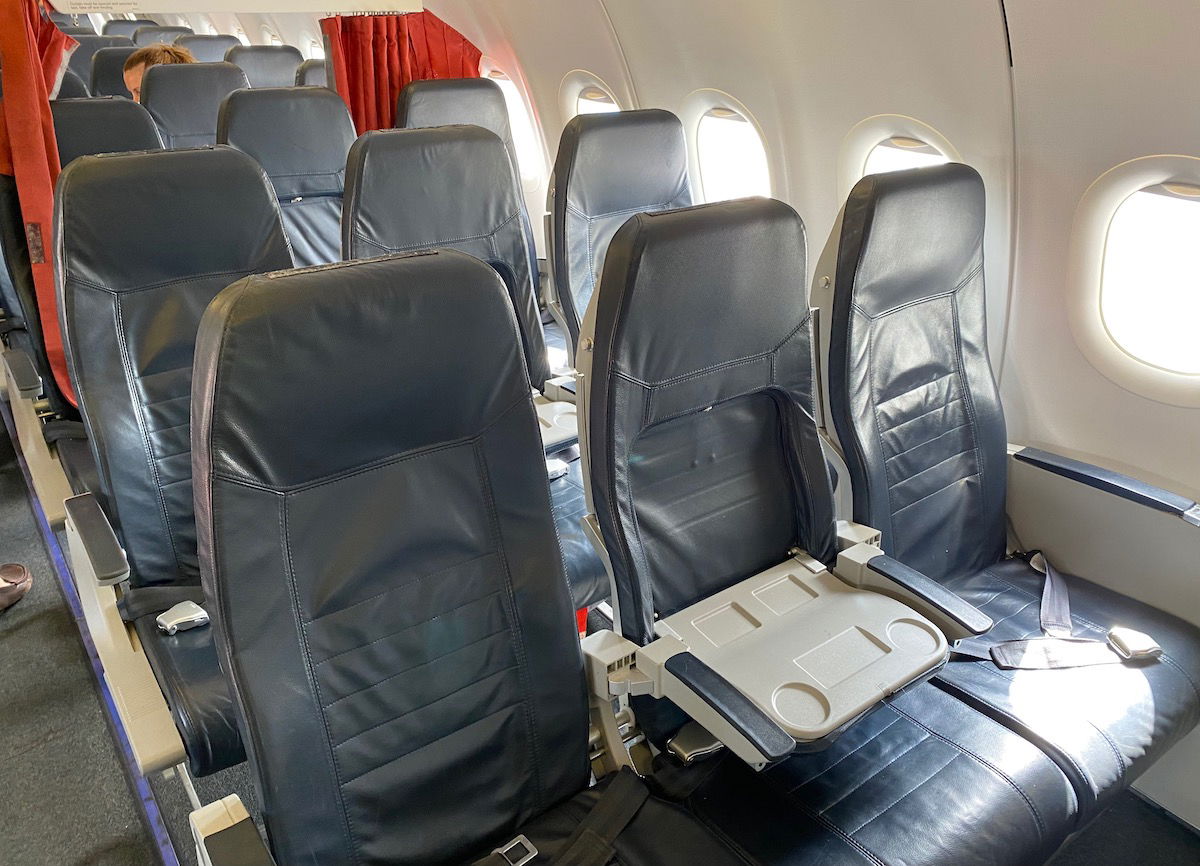 On the plus side, there were some things that made this better than your typical intra-European business class product. While the seats were very thin, the legroom was much better than usual and didn't feel restrictive at all.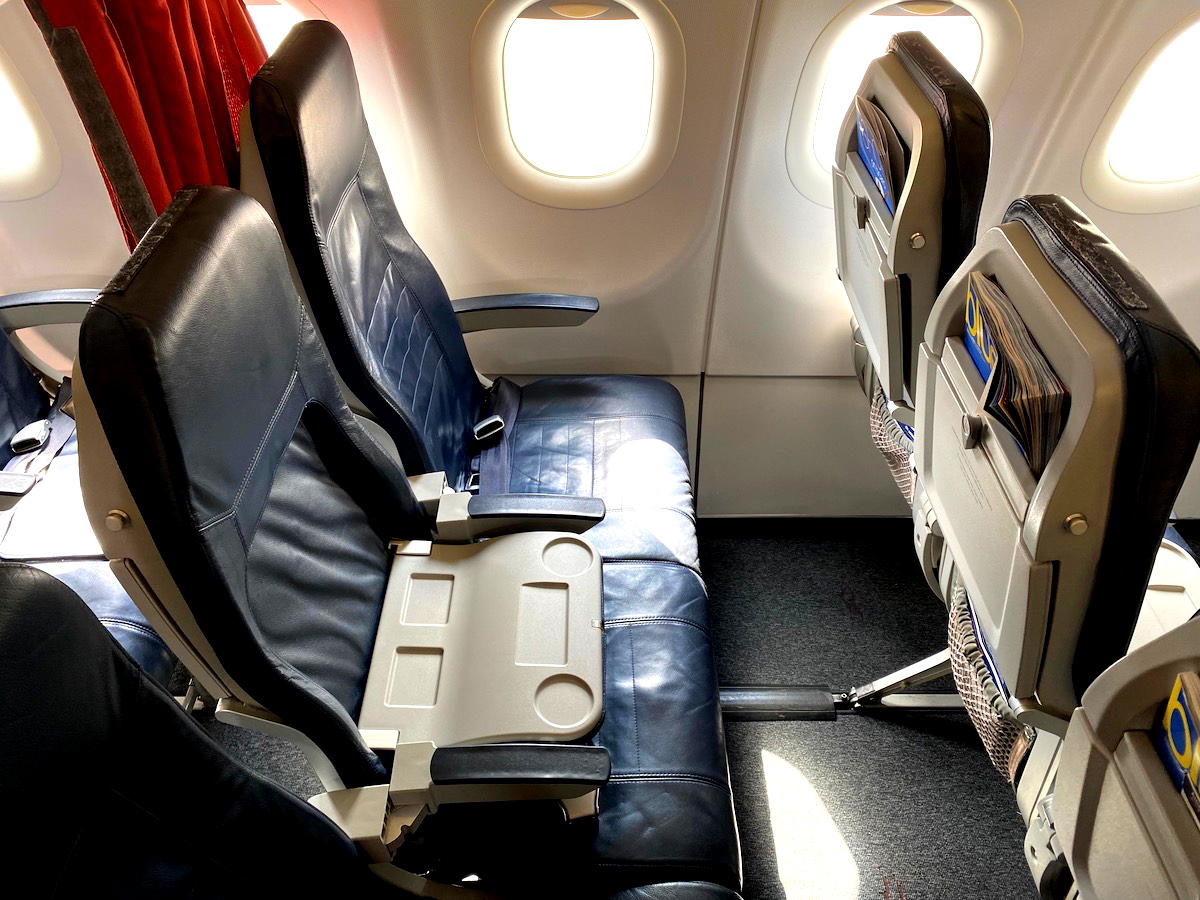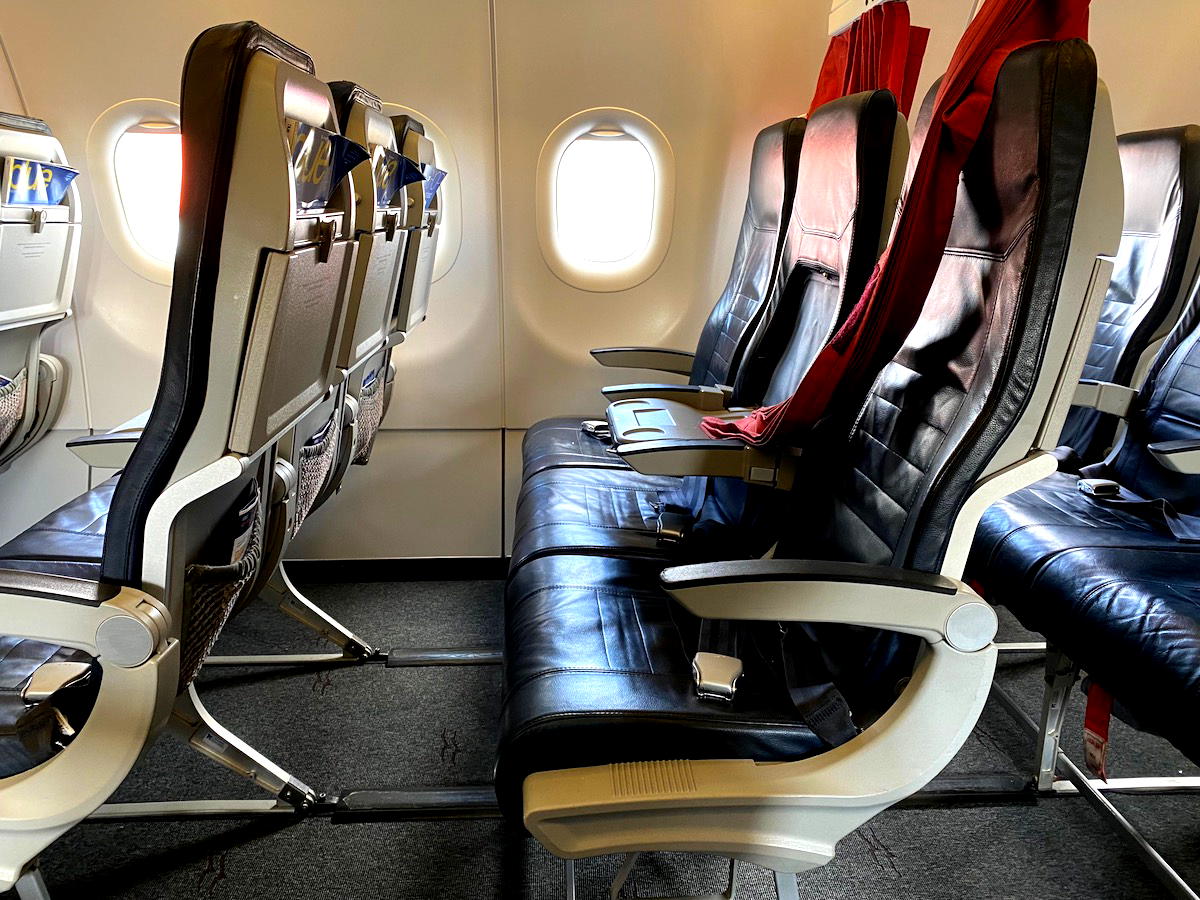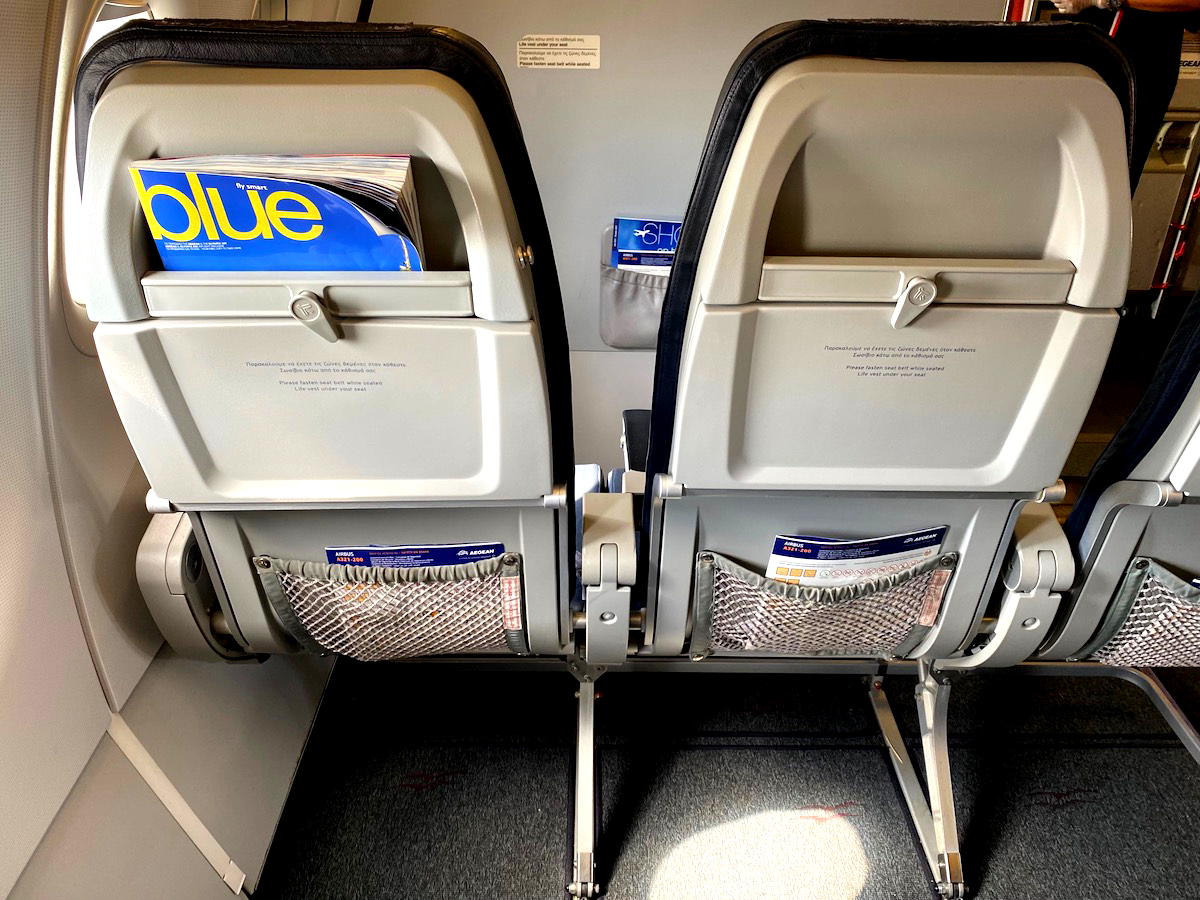 In addition, there was a center console where you could place drinks or other items during the flight. Many airlines have gotten rid of this feature nowadays, so I was happy to see that.
As usual, the tray table unfolded from the front seat.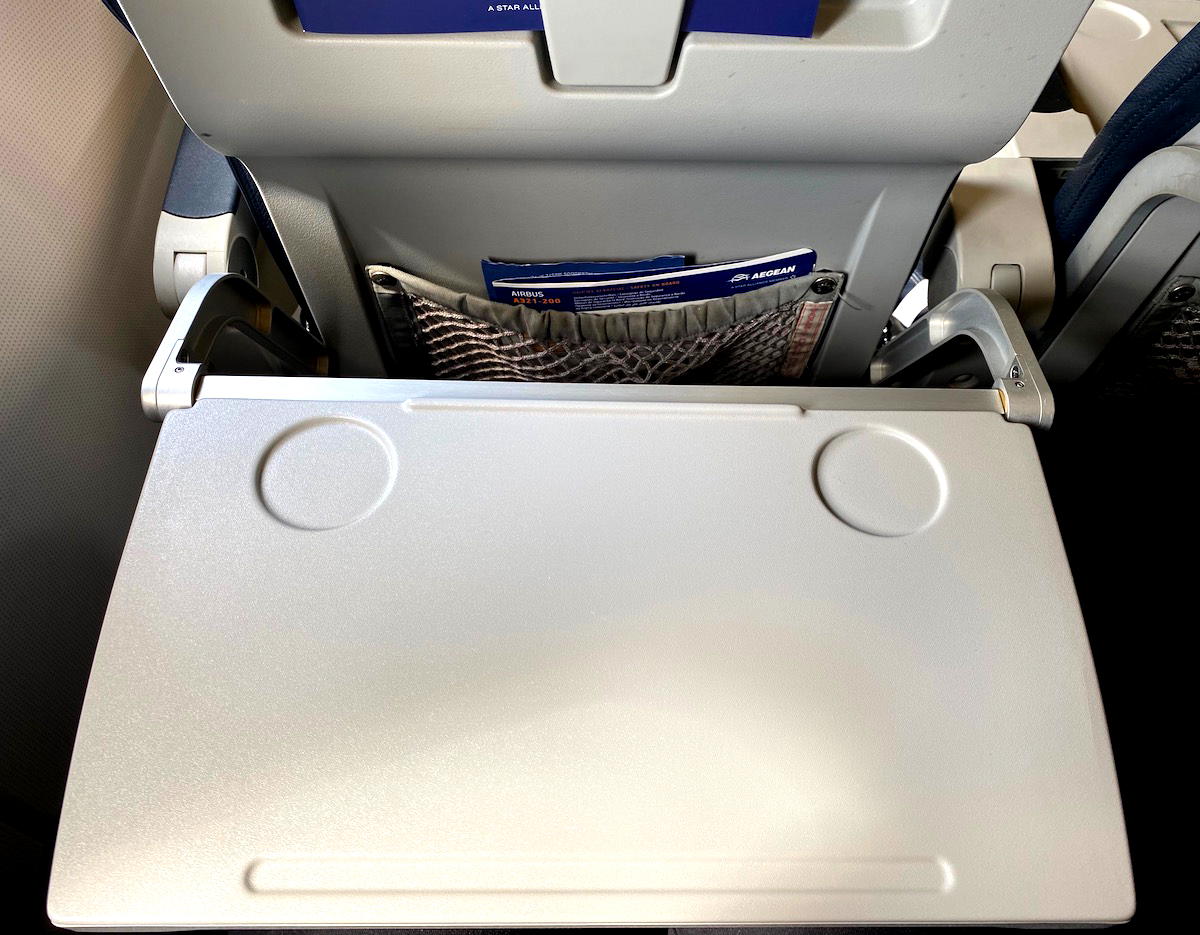 The overhead consoles were modern and had individual air vents, reading lights, and there were even pop-up TV screens.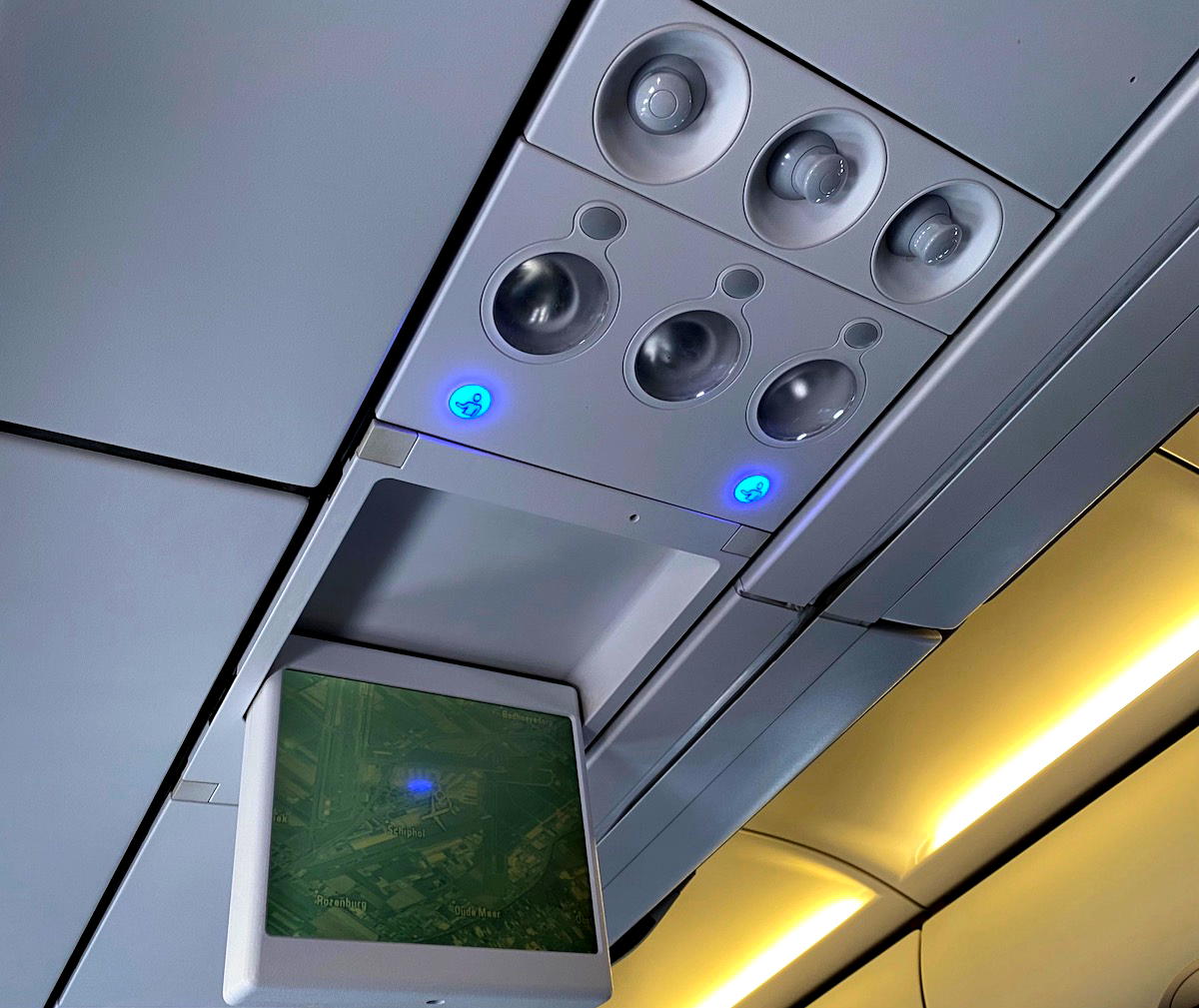 Unfortunately, Aegean Airlines does not have power or Wi-Fi ports on its Airbus A321s.
Our flight was packed – 10 of the 12 business class seats were occupied, and to the best of my knowledge just about all economy class seats were full as well. I was grateful to have a little extra room to stretch, compared to the economy.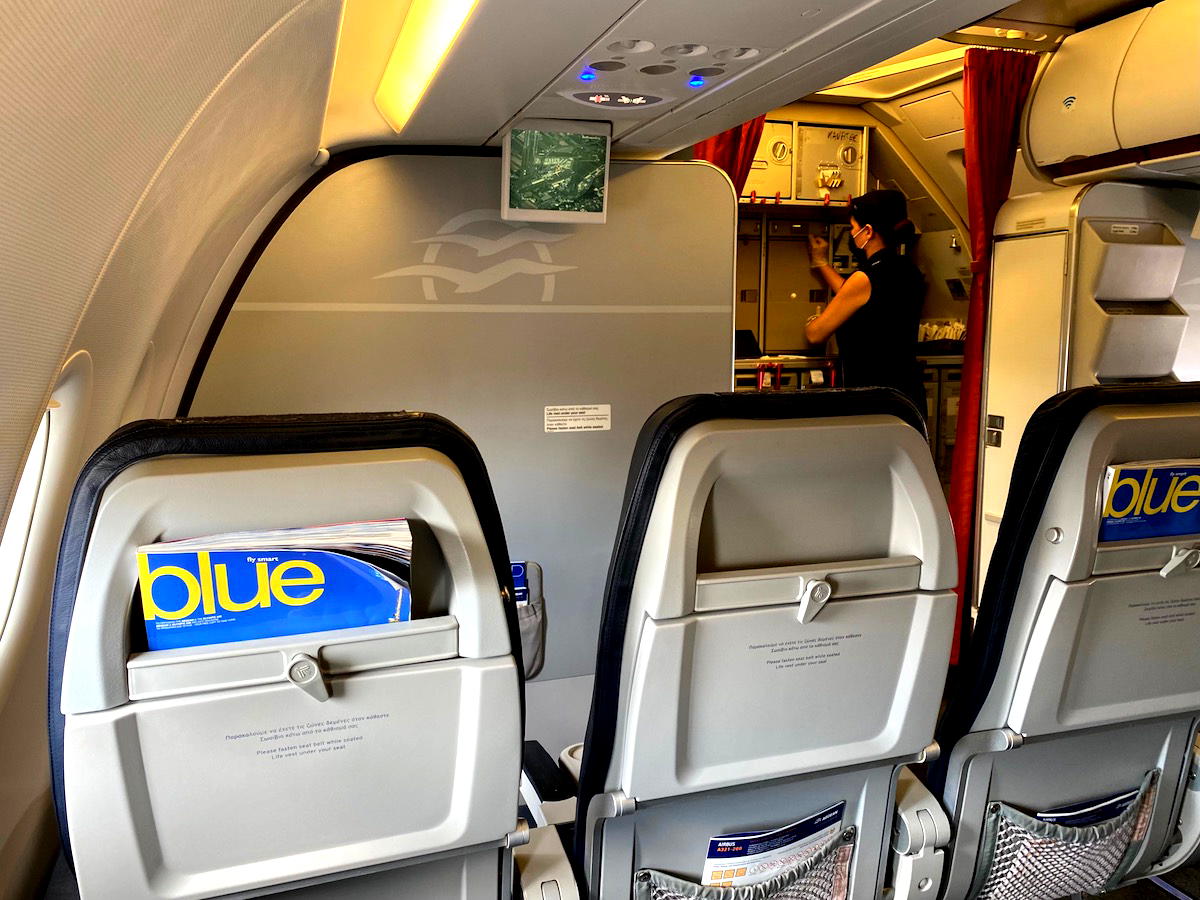 From Amsterdam
At 11:55 a.m., the main cabin door closed at which time the safety video was shown. 15 minutes later, we started our pushback. Parked next to us was an Airbus A320 from Sky Express – it's funny that they put the two Greek planes next to each other.
There was quite a bit of traffic at Schiphol Airport, so the aircraft spotting opportunities were good.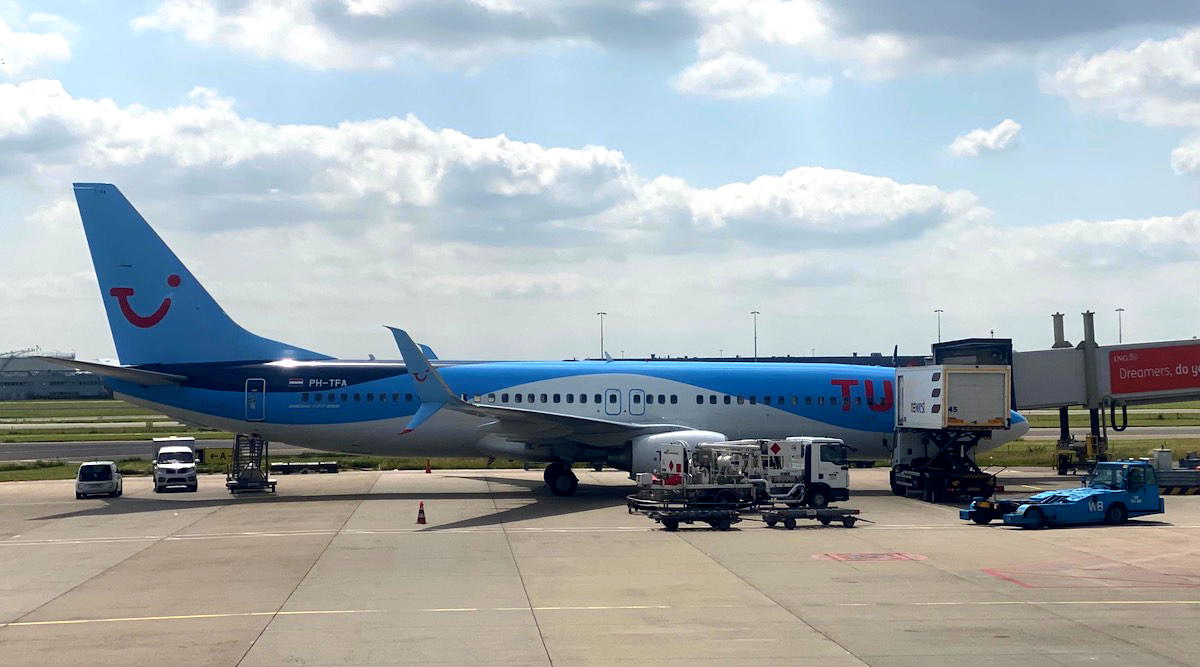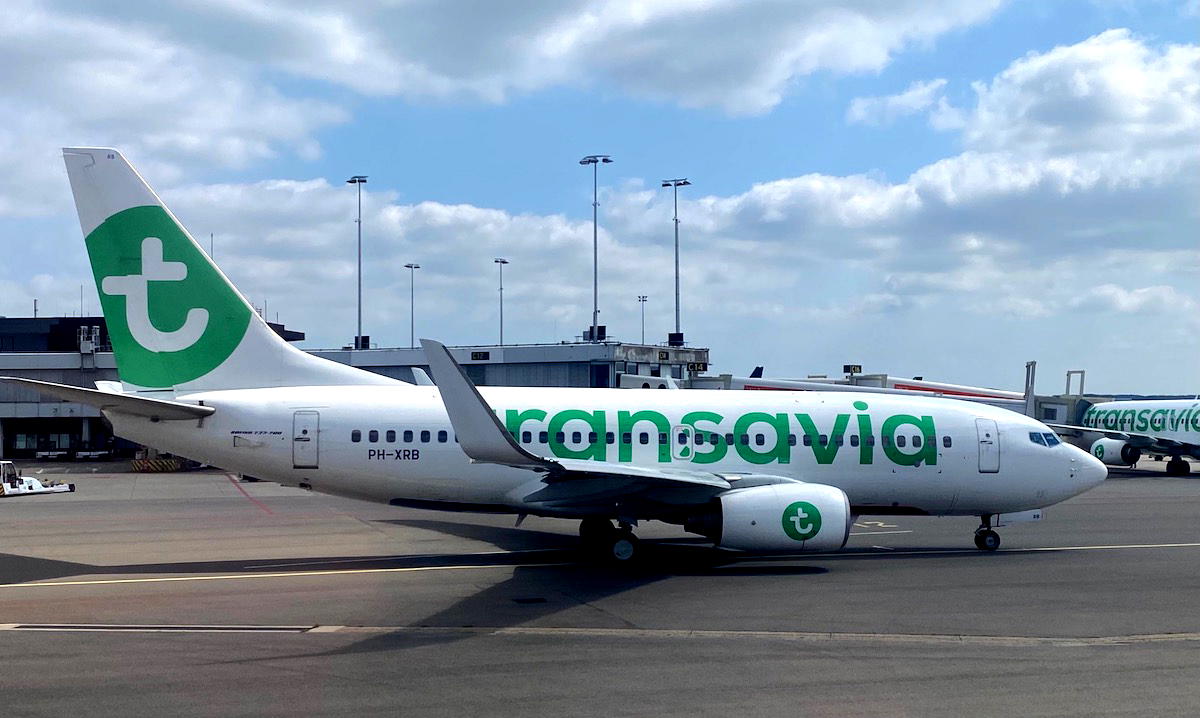 We ended up driving to runway 36L, which was quite far away. We were cleared for take off around 12:30 p.m., for our approximately 2:50 hour flight to Athens. It was a beautiful afternoon in the Netherlands as we took off and I enjoyed the view.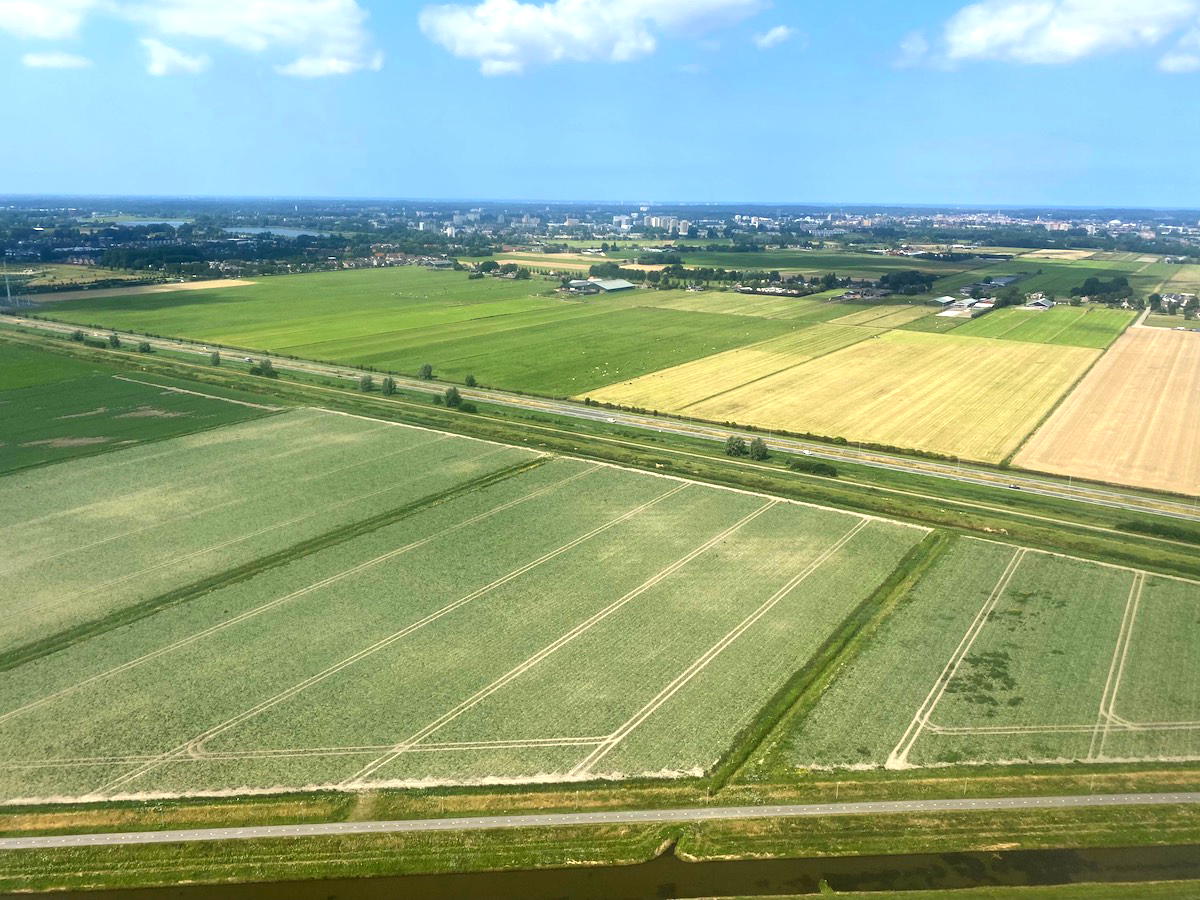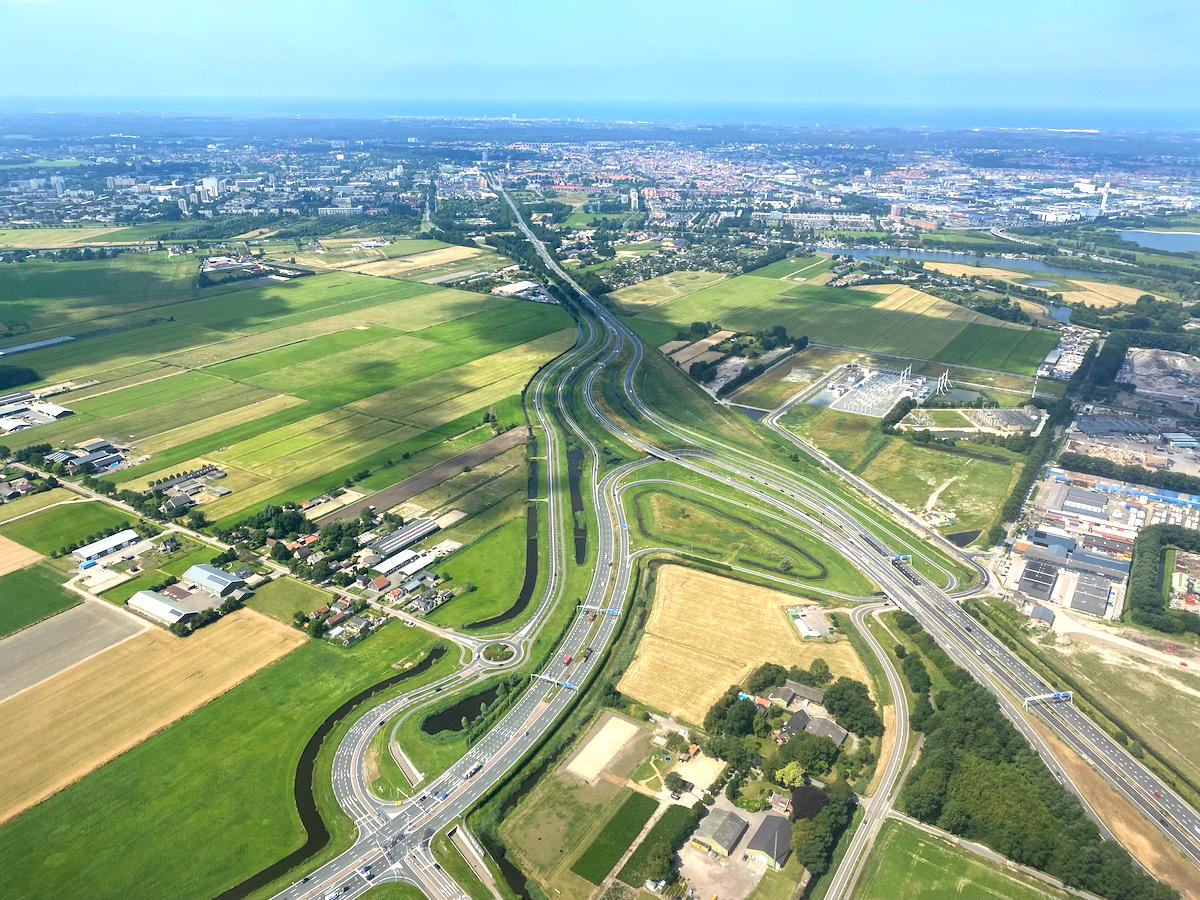 Aegean Airlines Business Class Dining Service
The seat belt panel was turned off approximately 10 minutes after take-off, and shortly after, service began. Passengers were first offered disinfectant wipes.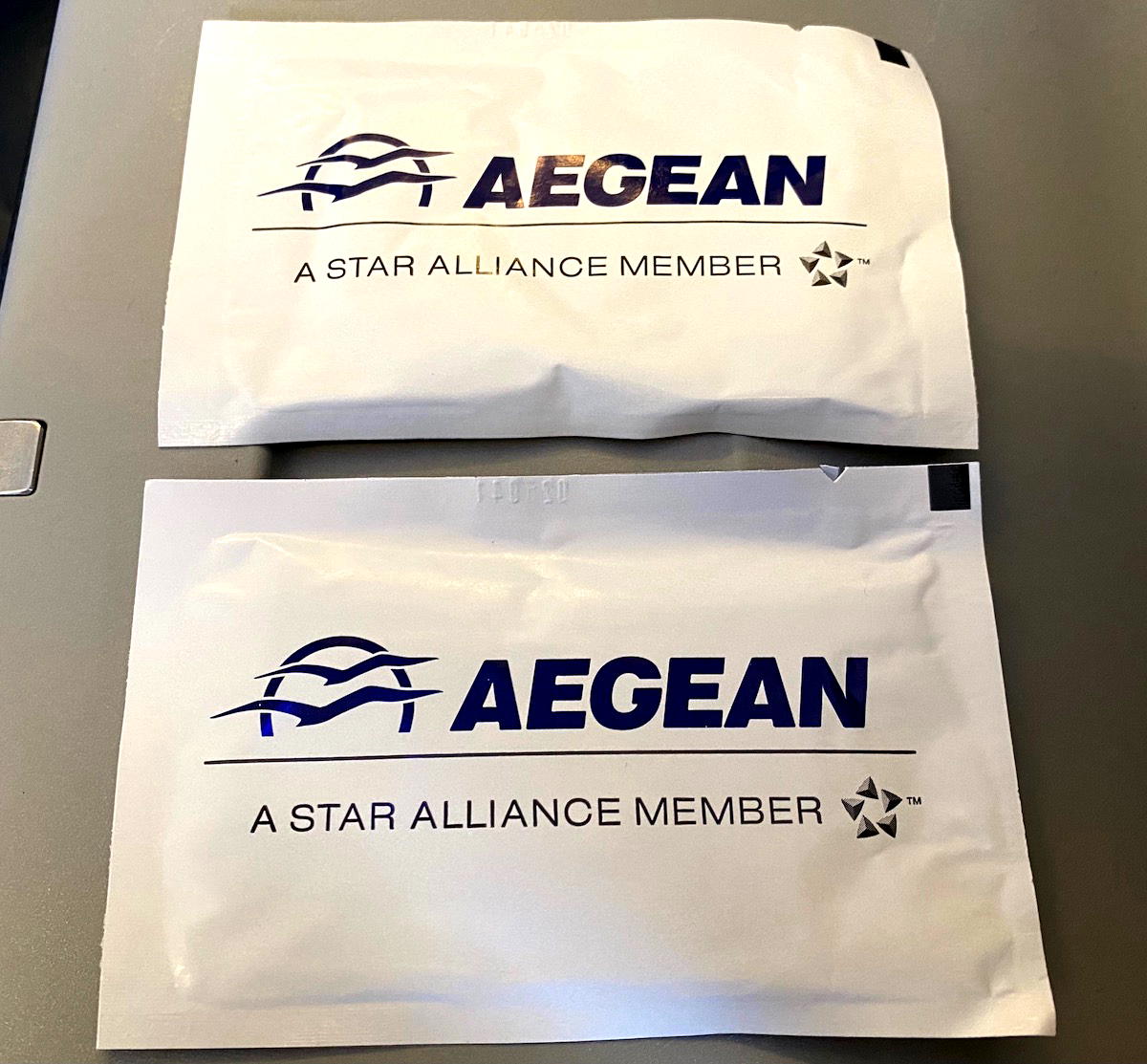 Menus and drink lists were then distributed. I like the way Aegean Airlines offers menus because many airlines do not offer this in Europe. The menu and the list of drinks read as follows: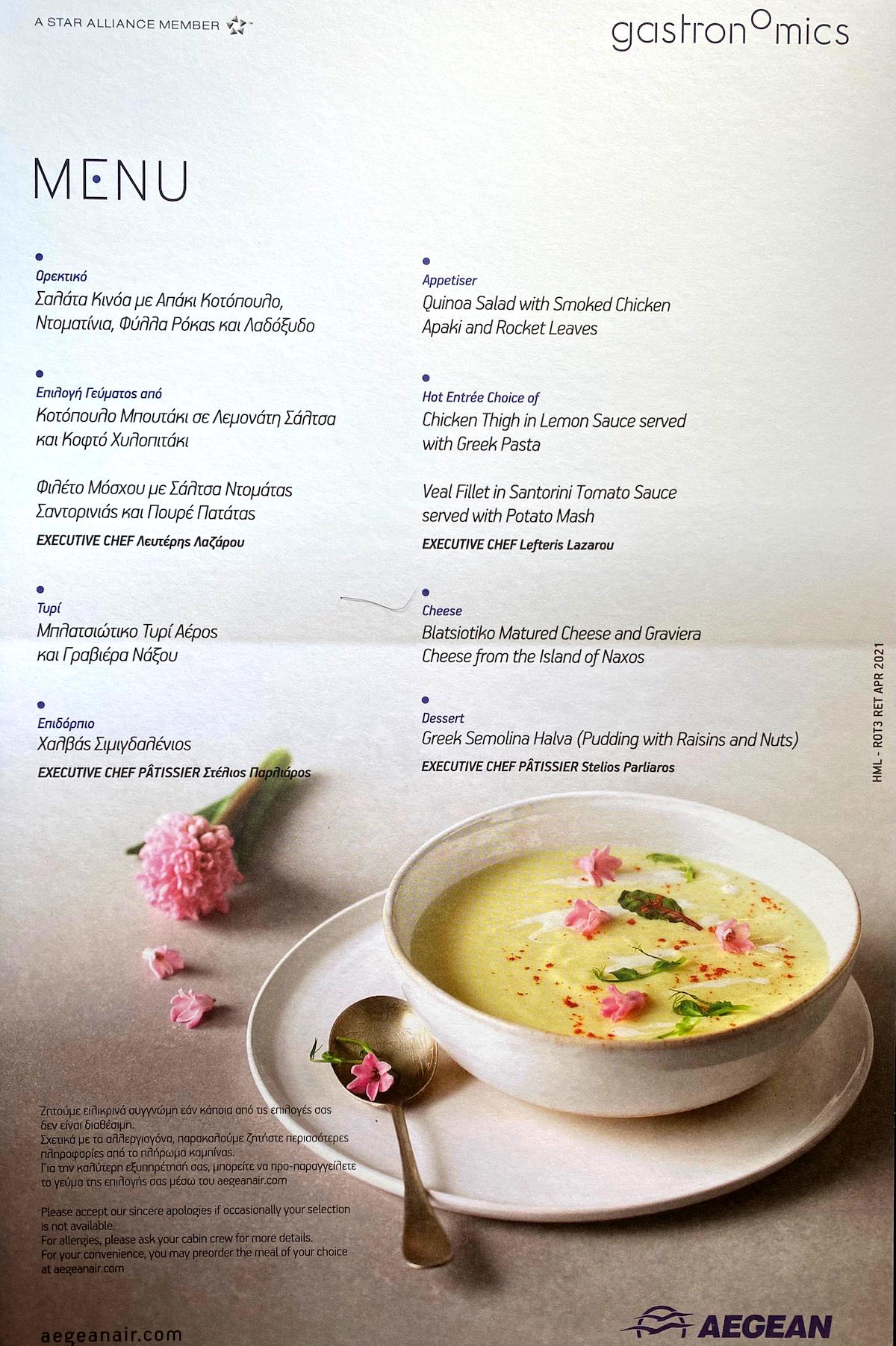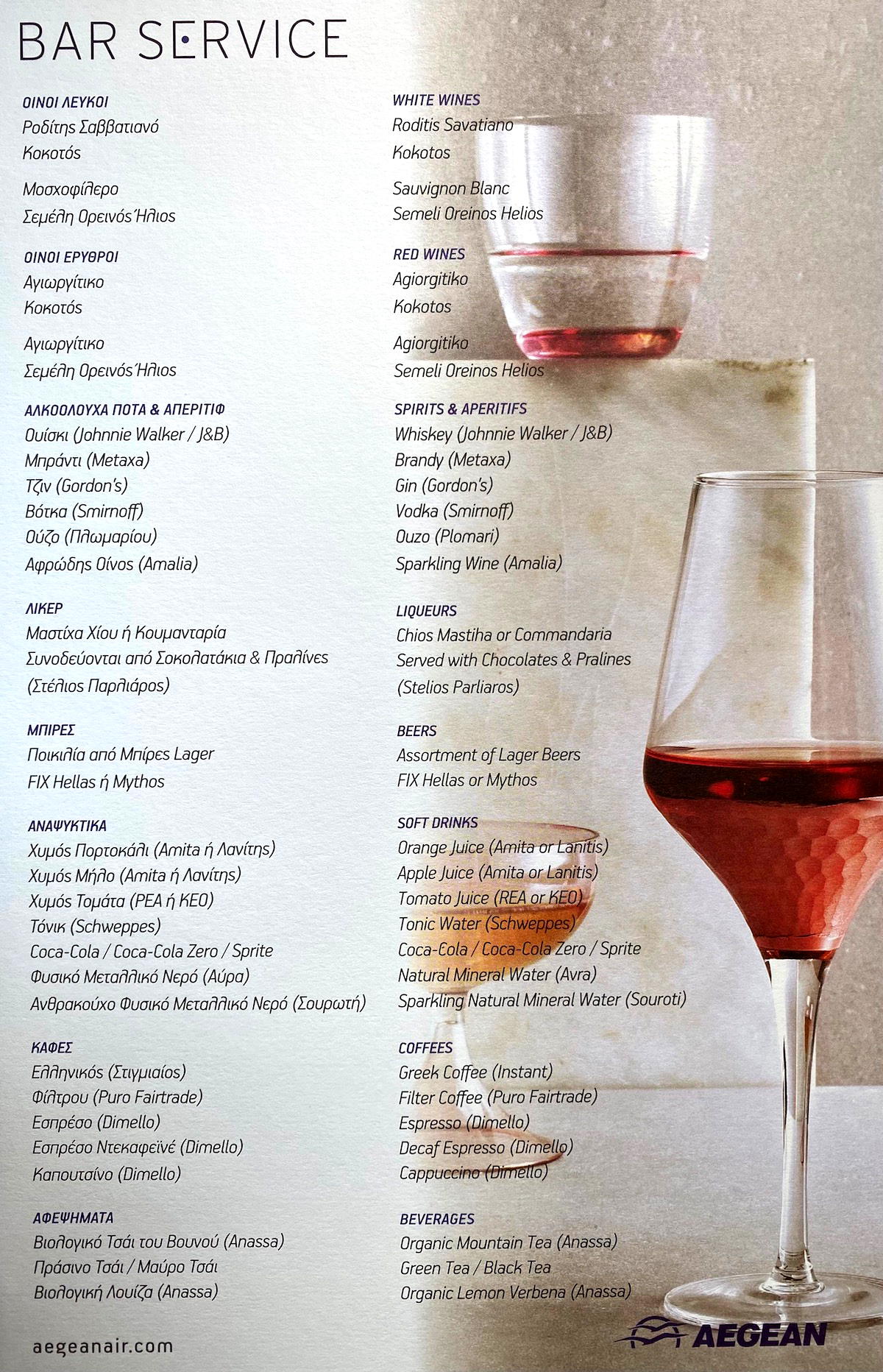 After the menus were distributed, tray liners were taken out. While minor, it's also a nice touch that you don't find on many airlines on similar routes.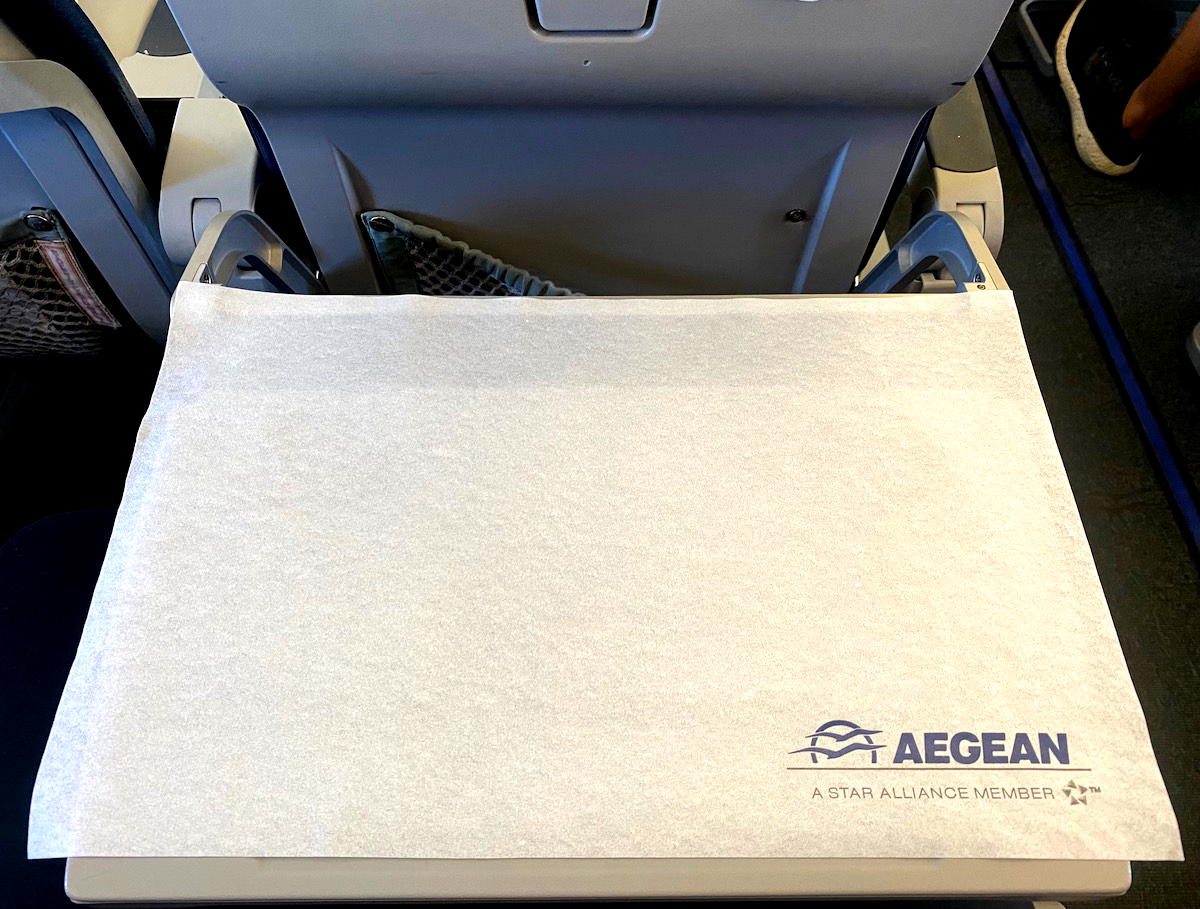 We were then offered drinks and requested a Coke Light, which was served in a suitable glassware.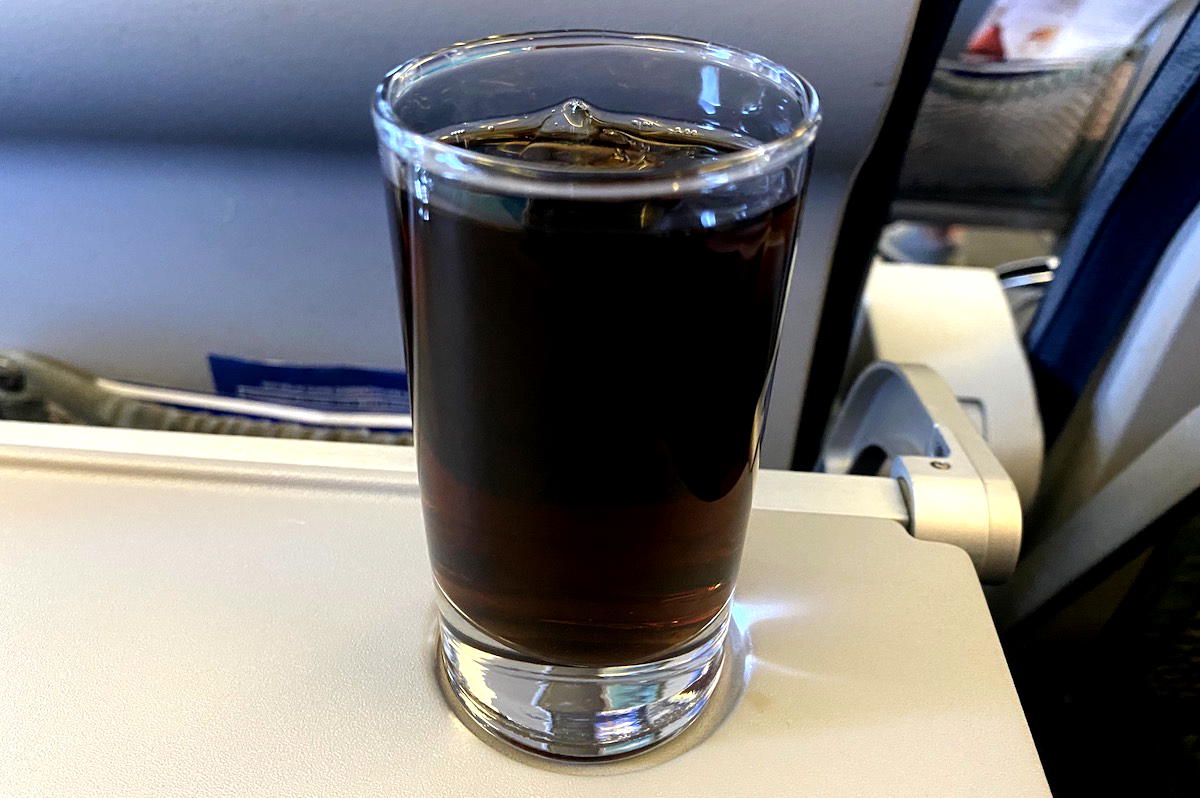 The whole meal was served on a platter and most of the dishes were covered, as many airlines are doing because of the pandemic.
All things considered, Aegean Airlines serves quite substantial meals. All business class passengers received an appetizer consisting of a quinoa salad with smoked chicken and arugula leaves, a cheese course with crackers, two buns and a Greek pudding with raisins and nuts.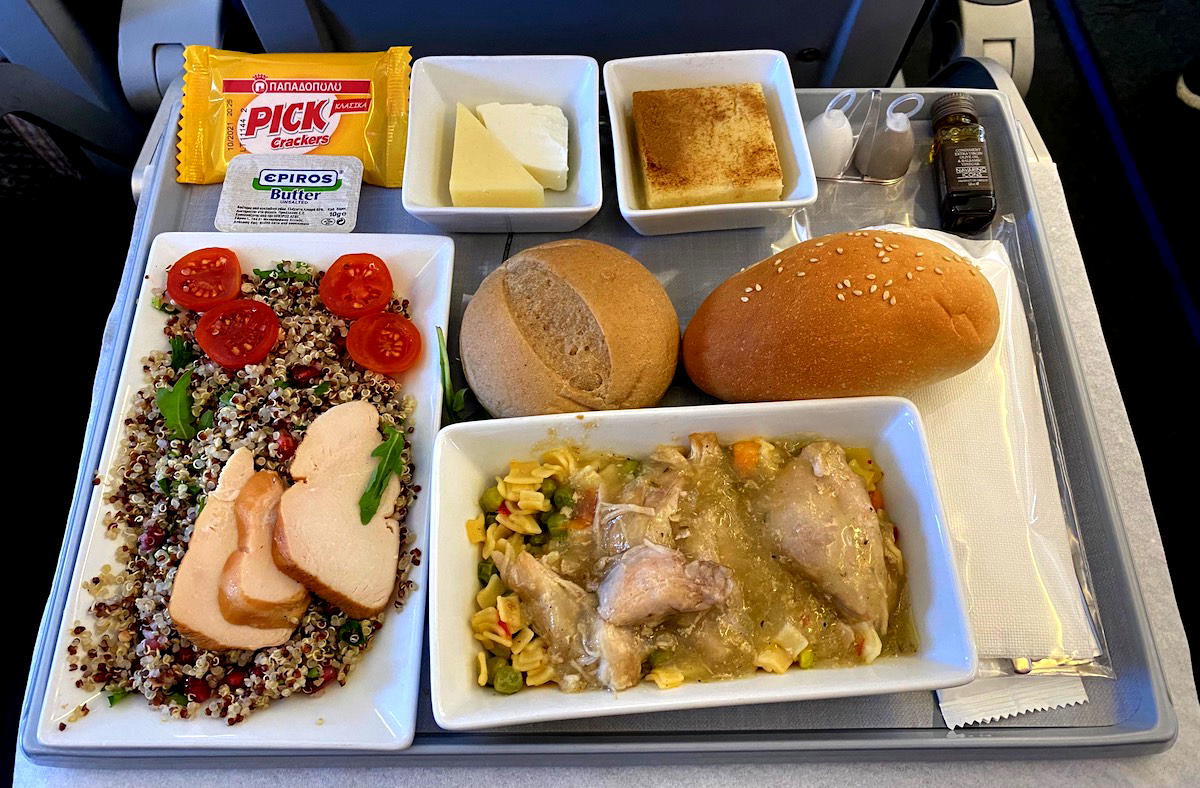 Then there was the choice between two main dishes. The first choice of main course was a chicken thigh in lemon sauce served with Greek pasta. This is what I ordered, and I have to be honest, it didn't taste good.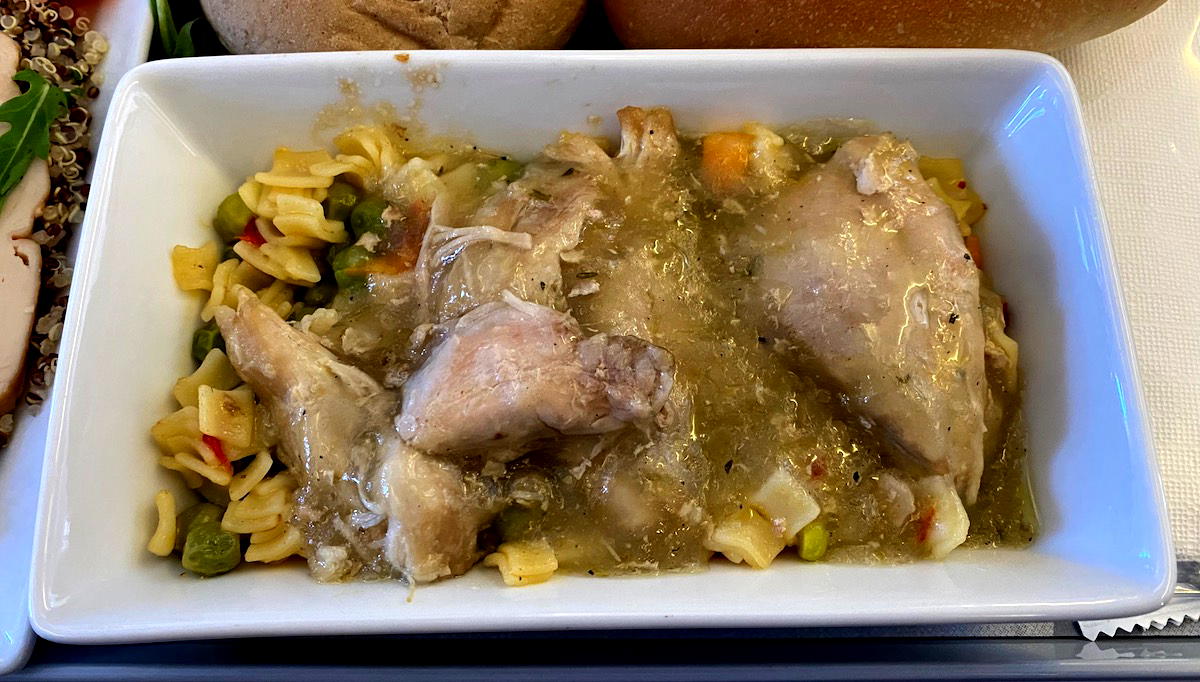 The other option was veal tenderloin in tomato sauce served with mashed potatoes. Ford ordered this and said it was okay, but no wonder.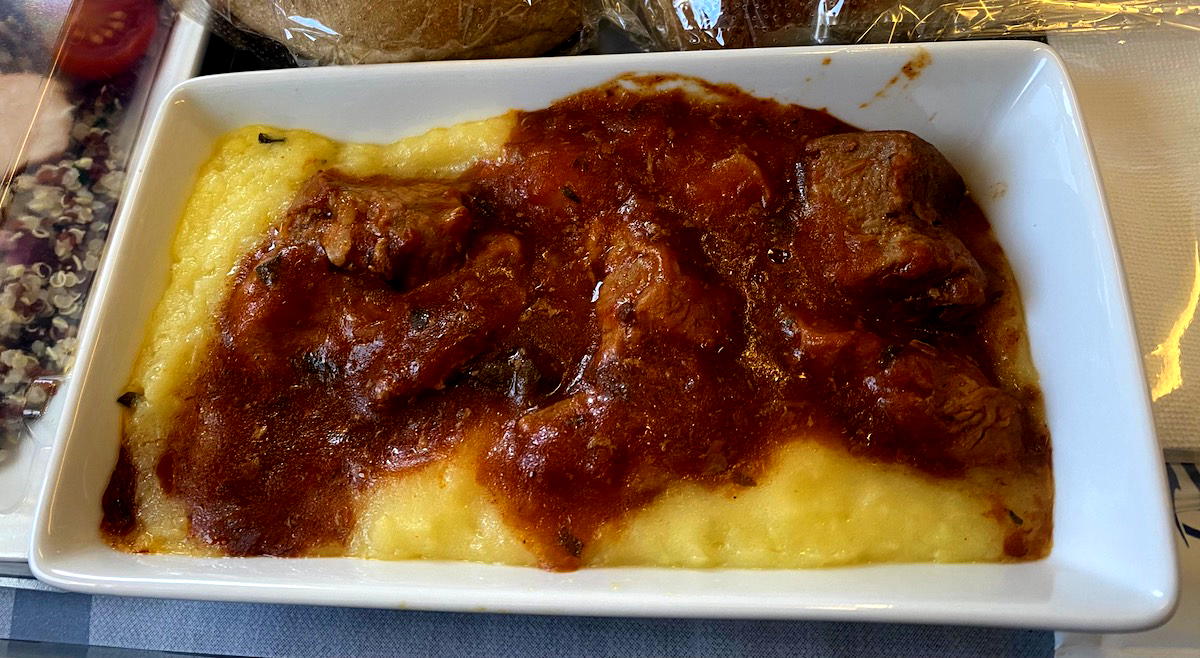 Aegean Airlines has a fairly good selection of coffees, including cappuccinos. I ordered a cappuccino, which was surprisingly decent and served with two chocolates.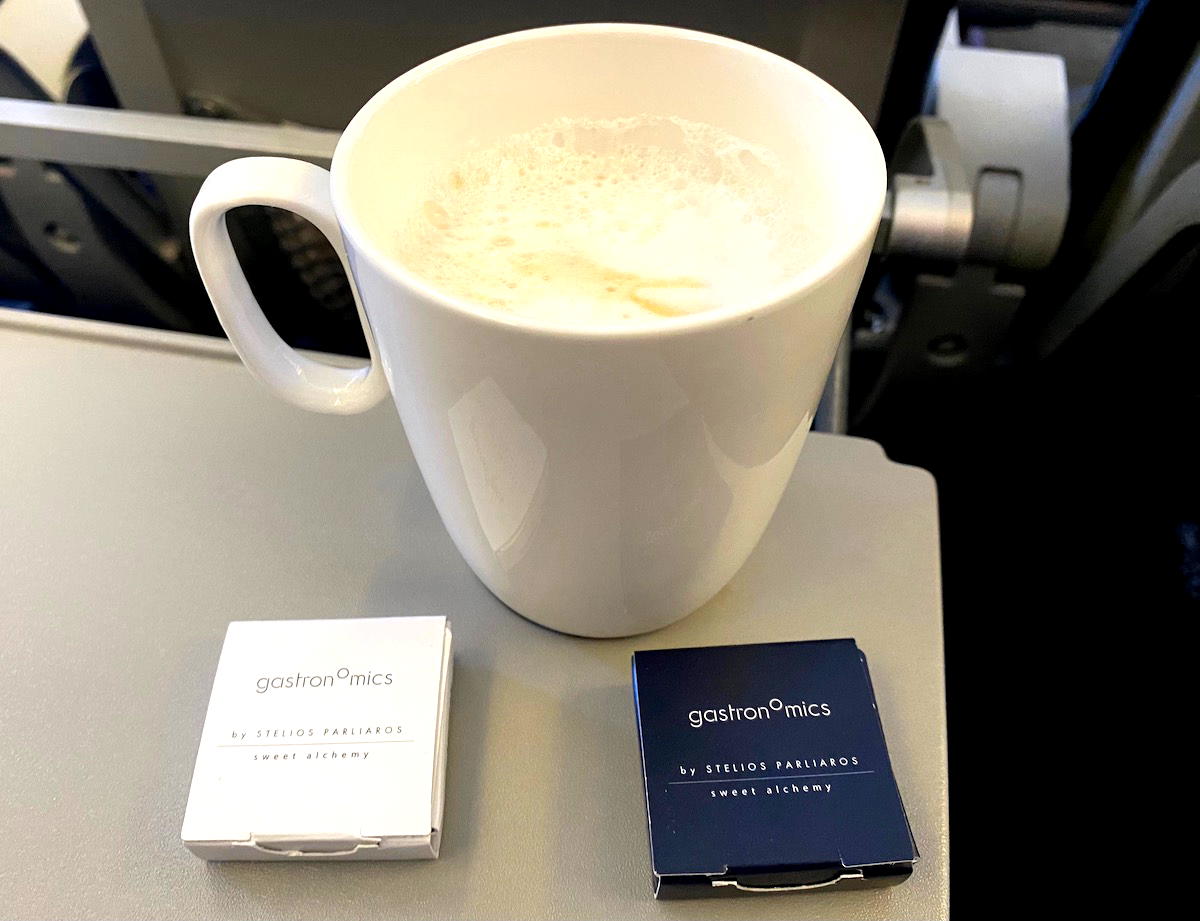 Later in the flight, about an hour before landing, I ordered a glass of still water and a Greek coffee. Greek coffee didn't taste very good because it was instant. Granted, it's totally mine, as it was advertised as such on the menu.
The biggest problem was that the center tray table I placed the coffee on collapsed mid-flight so the coffee spilled out everywhere including my laptop and my pants and shoes. Ford. Whoops.
Aegean Airlines Business Class Service
I have always had excellent service on Aegean Airlines and found the flight attendants to be friendly and attentive, and this flight was no exception. The two flight attendants working in business class were excellent and constantly checking passengers.
Greece can be a mix of service in terms of service, with excellent service and less good service, but I find Aegean Airlines to be quite consistently good.
Aegean Airlines business class washbasin
There was a toilet at the front of the cabin. Although it was fairly straightforward, it was clean and was exclusively for business class passengers, so there was usually no queue to use it.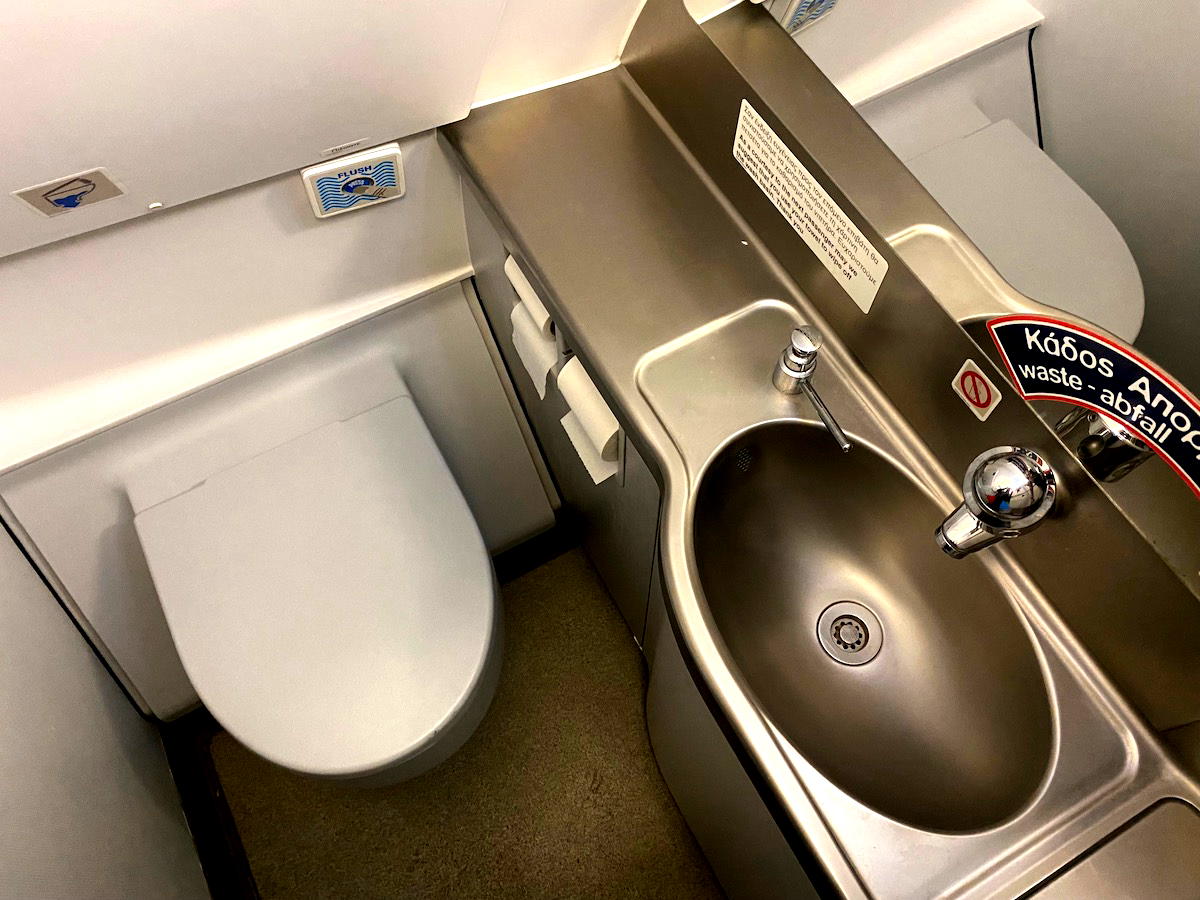 Arrival in Athens
We ended up landing in Athens at 4:20 pm, then took a five minute taxi to our remote booth. We parked next to an Aegean Airbus A320neo in the new livery. While not a particularly imaginative livery, I think it's an improvement over the old one, and I like it.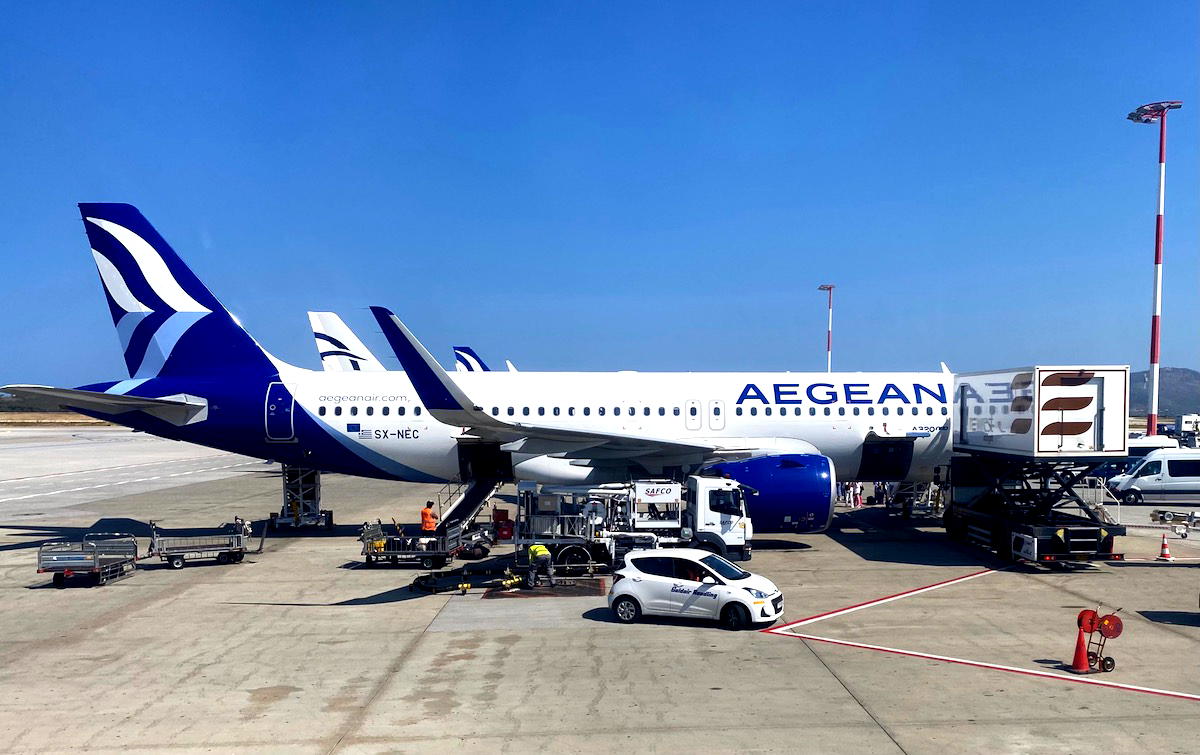 In this case, getting to a distant pit worked in our favor. Of course, as an avgeek, it's fun to have such a cool view of an airplane from the outside.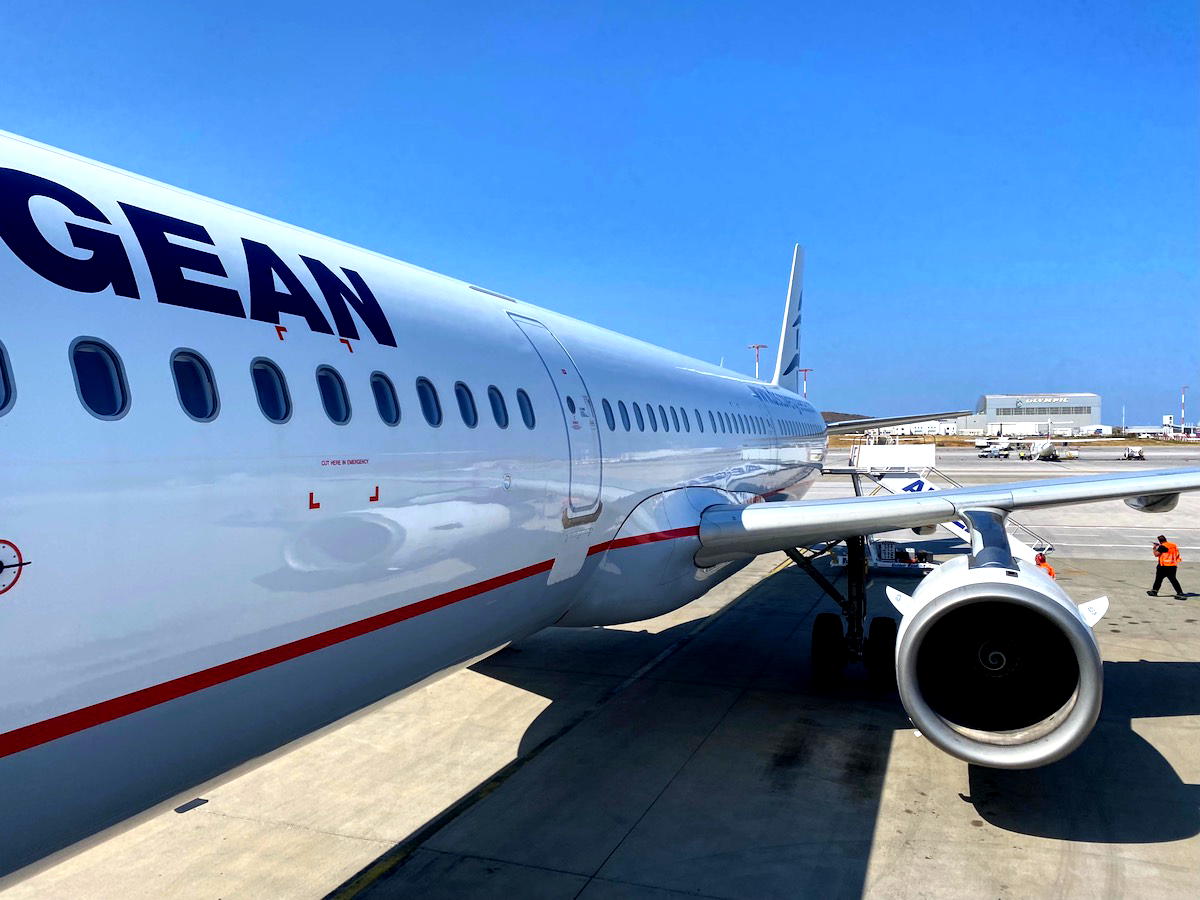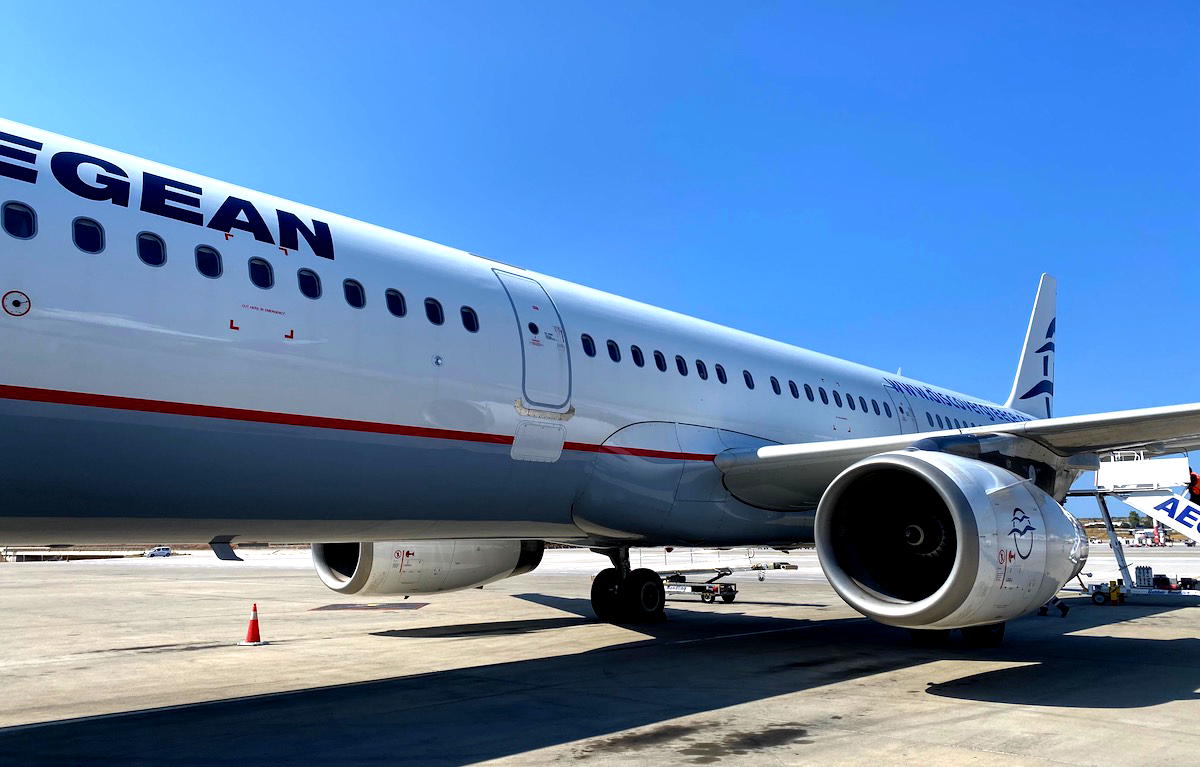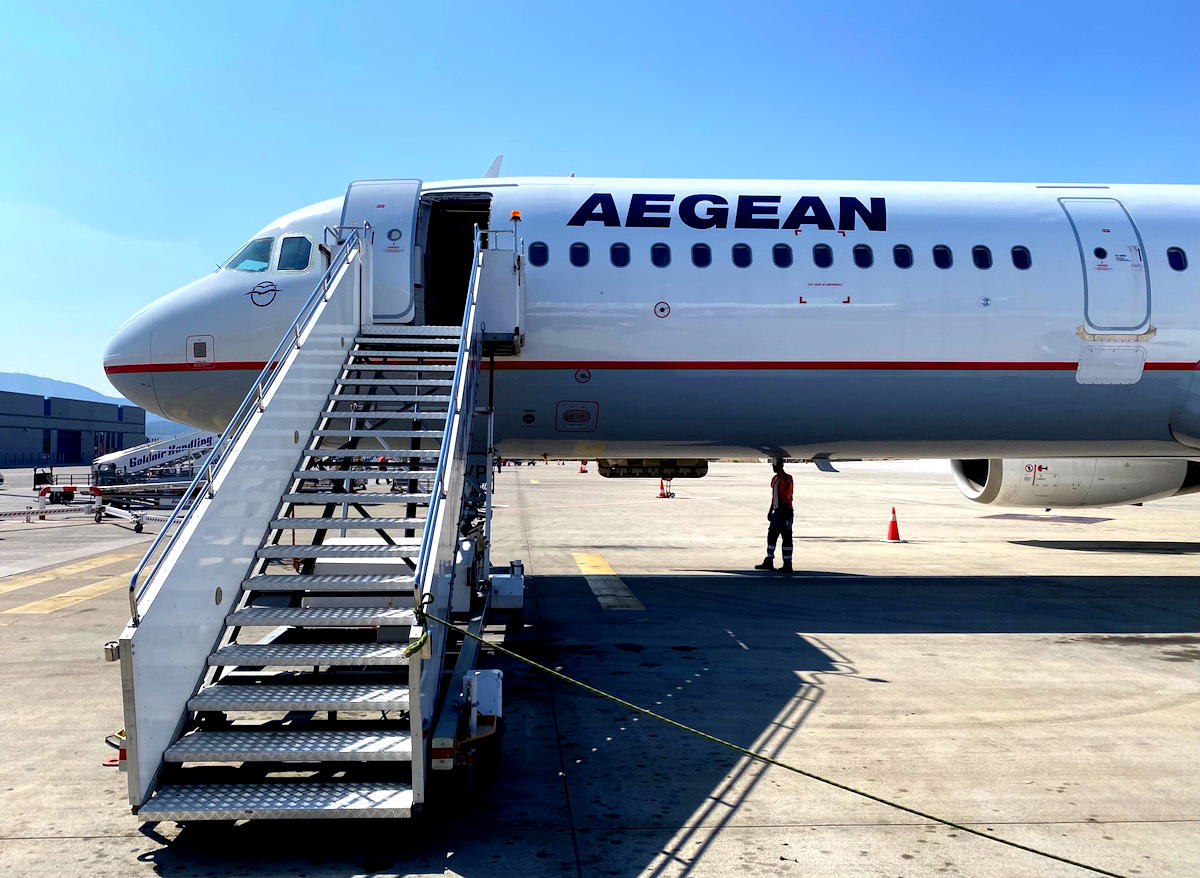 The other good thing, however, was that there was a private bus for business class passengers, so we were on our way almost immediately. Not only was the bus spacious, but arriving at a remote booth meant we would be dropped off right at baggage claim. We also had a pretty cool sight of an Aeroflot 777 on our way.
Exiting the airport was quick and within minutes we were on our way to our destination.
At the end of the line
Aegean Airlines offers an above-average intra-European business class product. The legroom is good, the flight attendants are friendly, and the food is generally better than what you'll find on most airlines (although in this case, I personally didn't like the food).
I wish Aegean offered power ports and Wi-Fi. Aegean's new A320neos at least have USB sockets, but that's it.
If you have flown in business class in the Aegean Sea, what has been your experience?